Zabriskie gewinnt 3. Tour of Missouri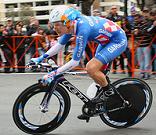 David Zabriskie hat die dritte Auflage der Tour of Missouri in seiner Heimat USA gewonnen.
Auf dem abschließenden Rundstreckenrennen von Kansas City reichte dem 30-jährigen Garmin-Profi ein 43. Platz, um seinen Vorsprung von 30 Sekunden auf den Schweden Gustav Larsson (Saxo Bank) souverän zu verteidigen. Platz drei in der Endabrechung sicherte sich der Italiener Marco Pinotti aus der Columbia-HTC-Mannschaft (+ 42 Sekunden). Bester Deutscher bei der siebentägigen Rundfahrt durch den US-Bundesstaat wurde der Wahl-Freiburger Heinrich Haussler (Cervélo) als 49.
Den Sieg der letzten 116,4 Kilometer langen Etappe sicherte sich der Kanadier Martin Gilbert (Planet Energy) im Massensprint vor seinem Landsmann Andrew Pinfold (OUCH) und dem Norweger Thor Hushovd (Cervélo). Vierter wurde der Österreicher Bernhard Eisel aus dem Team Columbia-HTC.
Jens Voigt aus Berlin beendete sein erstes Rennen nach seiner knapp siebenwöchiger Verletzungspause auf dem 89. Gesamtrang. Der 37-jährige Saxo-Bank-Profi hatte am Ende 10:46 Minuten Rückstand auf Zabriskie.
3. Tour of Missouri (UCI-Kat. 2.HC, 7.-13. September 2009, USA)
Resultat 7. Etappe, Kansas City, 116,4 km:
1. Martin Gilbert (Can) Planet Energy 2:33:11 Stunden
2. Andrew Pinfold (Can) OUCH Presented By Maxxis
3. Thor Hushovd (Nor) Cervelo Test Team
4. Bernhard Eisel (Aut) Team Columbia-HTC
5. Kyle Wamsley (USA) Colavita/Sutter Home Presented By Cooking Light
6. Francesco Chicchi (Ita) Liquigas
7. John Murphy (USA) OUCH Presented By Maxxis
8. Dario Cataldo (Ita) Quick Step
9. Davide Frattini (Ita) Colavita/Sutter Home Presented By Cooking Light
10. Alex Candelario (USA) Kelly Benefit Strategies
11. Danilo Wyss (Swi) BMC Racing Team
12. Florian Stalder (Swi) BMC Racing Team
13. Shawn Milne (USA) Team Type 1
14. Lucas Sebastian Haedo (Arg) Colavita/Sutter Home Presented By Cooking Light
15. Guillaume Boivin (Can) Planet Energy
16. Jeremy Vennell (NZl) Bissell Pro Cycling
17. Peter Latham (NZl) Bissell Pro Cycling
18. Matthew Rice (Aus) Jelly Belly Cycling Team
19. Ben Jacques-Maynes (USA) Bissell Pro Cycling
20. Tom Zirbel (USA) Bissell Pro Cycling
21. Janez Brajkovic (Slo) Astana
22. Antonio Cruz (USA) BMC Racing Team
23. Kiel Reijnen (USA) Jelly Belly Cycling Team
24. Brett Lancaster (Aus) Cervelo Test Team
25. Thomas Frei (Swi) BMC Racing Team
26. George Hincapie (USA) Team Columbia-HTC
27. Lars Ytting Bak (Den) Team Saxo Bank
28. Thomas Vedel Kvist (Den) Quick Step
29. Dominique Cornu (Bel) Quick Step
30. Jackson Stewart (USA) BMC Racing Team
31. Marco Pinotti (Ita) Team Columbia-HTC
32. Brent Bookwalter (USA) BMC Racing Team
33. Chris Anker Sorensen (Den) Team Saxo Bank
34. Jeremy Hunt (GBr) Cervelo Test Team
35. Craig Lewis (USA) Team Columbia-HTC
36. Frederique Robert (Bel) Quick Step
37. Moises Aldape Chavez (Mex) Team Type 1
38. Michael Barry (Can) Team Columbia-HTC
39. Luis Romero Amaran (Cub) Colavita/Sutter Home Presented By Cooking Light
40. Jeremy Powers (USA) Jelly Belly Cycling Team
41. Gustav Larsson (Swe) Team Saxo Bank
42. Andrey Zeits (Kaz) Astana
43. David Zabriskie (USA) Garmin-Slipstream
44. Keven Lacombe (Can) Planet Energy
45. Darren Lill (RSA) Team Type 1
46. Steve Morabito (Swi) Astana
47. Jason McCartney (USA) Team Saxo Bank
48. Andrew Bajadali (USA) Kelly Benefit Strategies
49. Matthew Wilson (Aus) Team Type 1
50. Levi Leipheimer (USA) Astana
.
77. Heinrich Haussler (Ger) Cervelo Test Team
83. Andreas Klier (Ger) Cervelo Test Team 0:00:19
92. Jens Voigt (Ger) Team Saxo Bank 0:04:16
Abschließende Gesamtwertung:
1. David Zabriskie (USA) Garmin-Slipstream 22:26:56 Stunden
2. Gustav Larsson (Swe) Team Saxo Bank 0:00:30 zurück
3. Marco Pinotti (Ita) Team Columbia-HTC 0:00:42
4. Tom Zirbel (USA) Bissell Pro Cycling 0:00:44
5. Dario Cataldo (Ita) Quick Step 0:01:02
6. Levi Leipheimer (USA) Astana 0:01:09
7. Ben Jacques-Maynes (USA) Bissell Pro Cycling 0:01:13
8. Dominique Cornu (Bel) Quick Step 0:01:15
9. Lars Ytting Bak (Den) Team Saxo Bank 0:01:16
10. Rory Sutherland (Aus) OUCH Presented By Maxxis 0:01:22
11. Janez Brajkovic (Slo) Astana 0:01:30
12. Brian Vandborg (Den) Liquigas 0:01:31
13. Jason McCartney (USA) Team Saxo Bank
14. Scott Wizanski (USA) Kelly Benefit Strategies 0:01:32
15. Jeremy Vennell (NZl) Bissell Pro Cycling 0:01:41
16. Michael Rogers (Aus) Team Columbia-HTC 0:01:43
17. Timothy Duggan (USA) Garmin-Slipstream
18. Thomas Frei (Swi) BMC Racing Team 0:01:46
19. Brent Bookwalter (USA) BMC Racing Team 0:01:50
20. Peter Latham (NZl) Bissell Pro Cycling 0:01:55
21. Daniel Oss (Ita) Liquigas 0:01:58
22. Nicki Sorensen (Den) Team Saxo Bank 0:02:02
23. Danny Pate (USA) Garmin-Slipstream 0:02:05
24. Michael Barry (Can) Team Columbia-HTC 0:02:06
25. Michael Creed (USA) Team Type 1 0:02:08
26. Marcel Wyss (Swi) Cervelo Test Team 0:02:13
27. George Hincapie (USA) Team Columbia-HTC 0:02:15
28. Darren Lill (RSA) Team Type 1 0:02:16
29. Antonio Cruz (USA) BMC Racing Team 0:02:17
30. David Veilleux (Can) Kelly Benefit Strategies 0:02:18
31. Luis Romero Amaran (Cub) Colavita/Sutter Home Presented By Cooking Light 0:02:19
32. Christopher Baldwin (USA) OUCH Presented By Maxxis 0:02:24
33. Brett Lancaster (Aus) Cervelo Test Team 0:02:28
34. Jackson Stewart (USA) BMC Racing Team 0:02:34
35. Reid Mumford (USA) Kelly Benefit Strategies 0:02:36
36. Alexandr Dyachenko (Kaz) Astana 0:02:41
37. Karl Menzies (Aus) OUCH Presented By Maxxis 0:02:51
38. Ryan Roth (Can) Planet Energy 0:03:00
39. Alex Candelario (USA) Kelly Benefit Strategies 0:03:03
40. Danilo Wyss (Swi) BMC Racing Team 0:03:04
.
45. Floyd Landis (USA) OUCH Presented By Maxxis 0:03:28
46. Thor Hushovd (Nor) Cervelo Test Team 0:03:32
49. Heinrich Haussler (Ger) Cervelo Test Team 0:03:47
71. Andreas Klier (Ger) Cervelo Test Team 0:05:37
78. Bernhard Eisel (Aut) Team Columbia-HTC 0:07:02
89. Jens Voigt (Ger) Team Saxo Bank 0:10:46
Foto: © Jeff Namba